Posts for: April, 2015
By Riverside Dental Center
April 24, 2015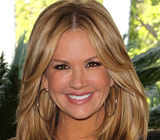 When it comes to sensitive gums during pregnancy, Nancy O'Dell, the former co-anchor of Access Hollywood and new co-anchor of Entertainment Tonight, can speak from her own experience. In an interview with Dear Doctor magazine, she described the gum sensitivity she developed when pregnant with her daughter, Ashby. She said her dentist diagnosed her with pregnancy gingivitis, a condition that occurs during pregnancy and is the result of hormonal changes that increases blood flow to the gums. And based on her own experiences, Nancy shares this advice with mothers-to-be: use a softer bristled toothbrush, a gentle flossing and brushing technique and mild salt water rinses.
Before we continue we must share one important fact: our goal here is not to scare mothers-to-be, but rather to educate them on some of the common, real-world conditions that can occur during pregnancy. This is why we urge all mothers-to-be to contact us to schedule an appointment for a thorough examination as soon as they know they are pregnant to determine if any special dental care is necessary.
Periodontal (gum) disease can impact anyone; however, during pregnancy the tiny blood vessels of the gum tissues can become dilated (widened) in response to the elevated hormone levels of which progesterone is one example. This, in turn, causes the gum tissues to become more susceptible to the effects of plaque bacteria and their toxins. The warning signs of periodontal disease and pregnancy gingivitis include: swelling, redness, bleeding and sensitivity of the gum tissues. It is quite common during the second to eighth months of pregnancy.
Early gum disease, if left untreated, can progress to destructive periodontitis, which causes inflammation and infection of the supporting structures of the teeth. This can result in the eventual loss of teeth — again, if left untreated. Furthermore, there have been a variety of studies that show a positive link between preterm delivery and the presence of gum disease. There has also been a link between an increased rate of pre-eclampsia (high blood pressure during pregnancy) and periodontal disease. Researchers feel this suggests that periodontal disease may cause stress to the blood vessels of the mother, placenta and fetus.
To learn more about this topic, continue reading the Dear Doctor magazine article "Pregnancy and Oral Health." And if you want to read the entire feature article on Nancy O'Dell, continue reading "Nancy O'Dell."
By Riverside Dental Center
April 09, 2015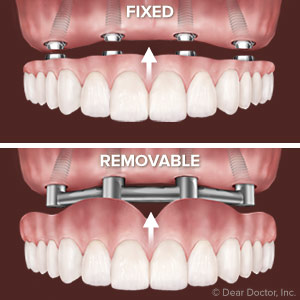 Although dental implants are best known as single tooth replacements, they can actually play a role in multiple or complete tooth loss (edentulism) restorations. While replacing multiple teeth with individual implants is quite expensive, there's another way to incorporate them in a restoration at much less cost — as supports for bridges.
In this case, only a few strategically placed implants are needed to support restorations of multiple crowns fused together into a single unit. Implant-based bridges consist of two main types: the first type is a fixed bridge, which is permanently attached to the implants and can't be removed by the patient. It's often the preferred treatment for patients who've lost most or all of their teeth but have not yet experienced significant bone loss in the jaw.
This choice, however, may not be the best option for patients with significant bone loss. In these cases, there's a second type of fixed bridge: an implant-supported fixed denture. This type of fixed denture provides support for the lost bone support of the lips and cheeks. If a fixed bridge is not possible due to finances or inadequate bone support to place 4 to 6 implants, a removable denture (also known as an overdenture) that's supported and held in place by implants is the next best alternative. Unlike a fixed bridge, an overdenture can be removed by the patient for cleaning purposes, and will require less investment than a fixed bridge.
For people with bone loss, the overdenture does more than restore chewing and speech function. Because bone loss can diminish support of the facial structures — actually shorten the distance between the chin and the tip of the nose — an overdenture provides additional bulk to support these structures to improve appearance. Depending on what the patient needs for facial support, overdentures for the upper jaw can be designed as "full palates," meaning the denture plastic completely covers the upper jaw palate, or open in which the plastic doesn't completely cover the palate.
Besides the condition of your teeth, gums and bone, your own personal preferences and financial ability will also play a role in which option is best for you. After considering all these factors, we can recommend which of these types of implant-based restorations will fit your needs. With either bridge, fixed or removable, you'll certainly benefit from the improvement to both your mouth function and your smile.
If you would like more information on implant-supported bridges, please contact us or schedule an appointment for a consultation. You can also learn more about this topic by reading the Dear Doctor magazine article "Fixed vs. Removable."